First day of classes yesterday. 7am, Rigging and Marlinespike Seamanship. In case you don't know (because I certainly didn't yesterday morning), rigging is, per my notes, the art and practice of moving stuff using mechanical advantage, while marlinespike seamanship is tying knots, apparently. I'm pretty sure this was not the exact wording used in the instructor's presentation, but it gives a general idea. Other classes yesterday were Swimming for Conditioning (Yes! P.E. classes again!), and Rigging Lab. It being the first day, Swimming was pretty easy- no getting in the water, just getting generally familiarized with the pool, the instructor, expectations, syllabus. During the Rigging Lab in the afternoon, we tied knots, bends and hitches. The class runs for 3 hours. We tied knots, bends and hitches for 3 hours (truly! we did.). A sampling:

Hitches: Clove/ Constrictor/ Half/ Trucker
Knots: Overhand/ Square/ Figure 8/ Figure 8 on a bight/ Bowline/ Bowline on a bight/ Buoy
Bends: Sheet/ Riggers

It may not sound so difficult to tie knots for 3 hours, but it is. Knots, bends and hitches can be very confusing, indeed. Our homework for next time is to tie a monkey's fist: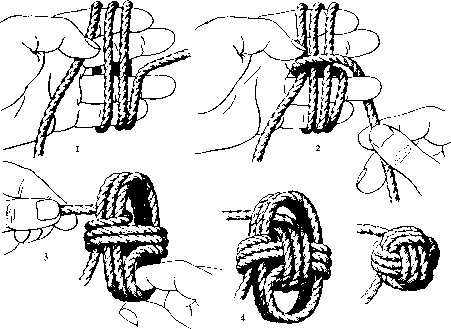 which is a bit messy, but so satisfying to look at when complete.

Today, Tuesday, I have no classes, but tomorrow begins Fundamental Practices of Diving (Modular study of diving physics, physiology, dive planning and safety; stresses the importance of environmental and equipment-related situations. Computations utilizing various decompression profiles emphasized.), more Swimming (this time, getting into the pool), and Drafting (Fundamental concepts of technical drawing. Topics include lettering, use of instruments, mathematics for drafting, multiviews, dimensioning, assemblies, sections, pictorials, perspectives, graphs and charts.). Thursday's classes are Hydraulics (Study of industrial fluid power mechanics with a practical laboratory component as related to marine equipment. Emphasis placed upon schematic design, interpretation and the role of hydraulic equipment and control systems as applied to subsea work systems, tools and work class remotely-operated vehicles.) and Hydraulics Lab.

The beauty of all of this is that I haven't a clue about any of it! It's a world of new and fascinating information, skill sets, points of reference.


I continued to acquaint myself with SBA over the weekend: Saturday, visited the harbor and Maritime Museum, attended a lovely barbeque and actually had real conversations with nice people, live and in person (as opposed to over the phone).
Sunday, drove to the nearest Target (in Ventura, 30 miles south) for a few more organizational aids, and walked along the beach at the Channel Islands National Park (not the actual islands, the part of the park that's in Ventura).
On the way home, I took a leisurely route along the coast, and stopped for a minute to chat with big bro. When I returned to my car, I spotted something in my driver's side mirror that was at first puzzling, and then a bit funny, and reminiscent of my time in Cannes, where it is, apparently, every person's right to urinate
(ahem)
, etc. wherever one wants.
*title credit: The bitter end refers to the extreme end of a line, and a line is the term used for rope which has been cut from a box, spool, etc.